Hanover Square achieves planning permission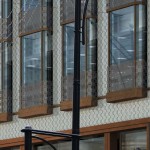 11-12 Hanover Square office and retail project has now achieved planning permission and is moving forward to tender. We have been assisting Campbell Architects in the development of the project, which faces both Hanover Square and Oxford Street with two very different façades. The Oxford Street elevation utilises bespoke faience with a pattern that is then tranformed into a glass coating on the projecting windows, while Hanover Square has a vertical emphasis with black bricks accentuated with Portland stone features.
This Janus building is derived from the very different functions and different locations of the two elevations. The sedate, business-like office entrance façade on Hanover Square and the bustling, busy retail elevation to Oxford Street.
The materials used reflect these two functions and locations and create the required impression of two very different buildings. The project is also incorporating artworks to the office entrance area.
We are looking forward to seeing this design develop in the next stage.