Glass visual assessment
At interface we recognise that the visual quality of glass can be of immense importance to our clients. We also appreciate that the minimum quality set out by the Standards can, in most cases, be routinely exceeded by architectural glass processors. Modifications of standard visual assessment criteria is frequently practiced in the industry and is inadvertently encouraged by the wide variation and often contradictory guidance in Standards. However, modifications must always be carried out with caution.
Managing expectations
Compiling a specification for the visual assessment of glass requires the understanding of glass processing limitations and capabilities. A modification to the standard visual assessment should be achievable, and any cost implications justifiable for the specific project. An unfaltering expectation of high visual quality for glazing in all applications can leave project specific glass challenges unexposed until it is too late, which is particularly true for bespoke glazing requirements or unprecedented specialist glass.
Where specification modifications unfairly enforce above and beyond the standard visual assessment criteria and tolerances, there can be a tendency for glass processors or facade contractors to feel obliged to accept them. Signing up to an unachievable glazing specification could be a result of a commercial decision in a competitive situation or an oversight of physical factory limitations. Unfortunately it can have the effect of encouraging more blanket modifications for all future project specifications.
A limited understanding of the method of assessment can result in less effective criteria being enforced than what could otherwise have been. For example, the Delta E CIELAB measurement for colour variation can be less onerous than widely acceptable assessment criteria based on l*, a* and b*.
interface have developed a methodology which can be used to prioritise types of visual quality, identify design opportunities to reduce perceived severity of glazing defects, expose risks and and assess modified assessment criteria for project relevant glazing.
Project specifics
We often find that project specific requirements may compromise some high visual quality which we otherwise have come to expect. Therefore at interface we initiate the appropriate discussions with glazing processors at the earliest convenient stage in the design to ascertain any potential limitations and to manage client expectations. We promote open discussions with glass processors, tenderers and sub contractors whilst it is also important to appreciate that the challenges and limitations cannot always be fully understood until a full size sample is produced.
An understanding of the physical processes that contribute towards visual defects in glass is critical to categorising those defects which can be mitigated, those that can be reduced in severity and those which are inherent to the glass type and process. This exposes opportunities for enforcing fair visual assessment criteria.
Processing challenges
We use our knowledge of the different key glass types (annealed, heat treated, coated, laminated and insulating units amongst others) and their typical processing hurdles and apply it to project specific glazing proposals. Project requirements may necessitate, for example, particular glass thicknesses, compositions, surface treatments, width to height ratios, shape, size, curvature, coatings and/or heat treatment.
The combinations of the factors may present a challenge to the processing which as a result could compromise the visual quality of the glass. We quickly get an insight into potential implications of cost, time and hence procurement risks associated with particular quality demands. Early recognition and sometimes intervention can mitigate the risks, challenge the compliance to the specification, and manage expectations.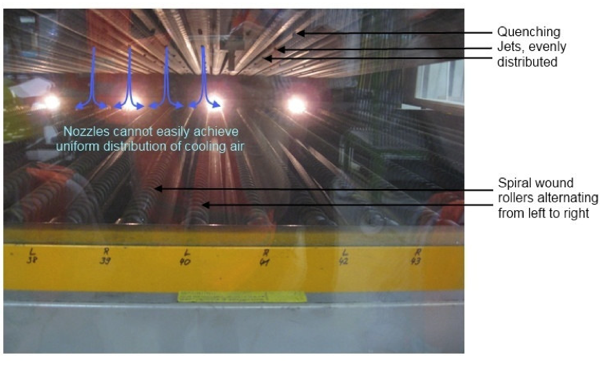 Visual quality inspections
For the review of visual quality we prefer to develop an objective assessment criteria where possible, which is agreed between the design and delivery team.
We insist on factory visits to the project glass processor to make early inspections of the first 20 to 50 panes to allow for early intervention if required. For post installation inspections we actively review against the specification, however, the practicalities of on site assessment can be challenging!