We have a passion for the challenges each project brings, aiming to deliver architecture of quality and performance. We work on large and small buildings, and our commercial and residential experience is market leading. Our attention to detail and knowledge of materials has even given us opportunities in the design of products and sculptures.
We value our client relationships greatly and only consider our role a success when we work with them again.
Small interventions We are regularly engaged to provide timely expertise to projects. Bringing our expertise in at key points can assist in developing the project, unblocking the way forward by simply providing the required technical input at the right...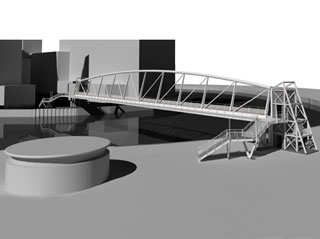 Leamouth North River Crossing A 60m long pedestrian and cycle vertical lift bridge in London taking inspiration from its site history The steel clad abutments at either side of this bridge house the pedestrian lift and the bridge hydraulics. Painted mild...